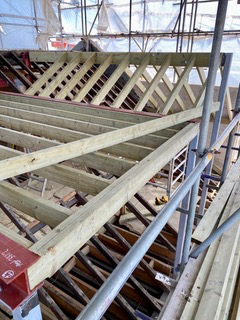 AND HOW IT CAN ADD VALUE TO YOUR HOUSE
Sussex Roofing & Building Services Limited has helped many home owners to not only successfully build their clients extensions but of course offer the right options for the roof covering of choice for those extensions.
Good Reasons to add an extension:
The growth of a family in order to provide more bedrooms or more living space.
Increase or improve facilities such as the kitchen or another bathroom either because the original were not very good, possibly built to the requirements of another era, or improved financial circumstances, or requiring something better.
Due to an increasing number of people working from home and the rapid improvement of communications and internet speeds, an extension to your home can provide the additional space required to allow this to happen.
A home extension may allow a relative, friend or lodger to live with a family for personal care or additional income.
Occasionally houses are not actually extended because of any particular need but largely as an investment.
Perhaps the property is significantly undersized in relation to the plot and other properties in the area and so it may be seen as adding value to the house which will be realised when the time comes to sell.
Extensions attached to your home are the most popular way of improving your home and potentially also increasing its market value.
Over the years we have noticed a growing demand for people to work from home rather than make the lengthy expensive commute to work, or the individual who wants to set up a new business but can't afford the expensive business rates that leasing a office demands. This is where an extension can meet your needs. That loft space can not only become an extra bedroom but an office with a view!
Each flat roof is professionally covered with a high performance single ply membrane system which comes with a 20yr peace of mind guarantee  or you may decide to keep the existing tiling, each design is unique.
With the new guidelines allowing more extensions to not need planning permission therefore eliminating this often lengthy and expensive process its much easier to go ahead and extend your home.