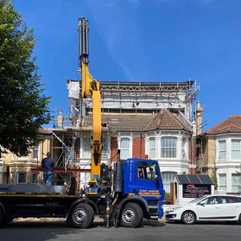 AND HOW IT CAN HELP INCREASE YOUR PROPERTY VALUE
Create Extra Space in Your Home
Converting your loft is one of the most efficient methods of increasing the living space in your home. Converting your loft is a cost effective method of extending your home without the hassle of moving.
Why go through the stress and cost of moving house or building a traditional home extension, when a Sussex Roofing & Building Services Limited loft provides a solution to all of your problems?
What uses can you think of for an extra room in your home? Maybe you have a growing family and need an extra bedroom or playroom, maybe you are starting a business and need an office, how about a spare room for guests or an art studio? There are endless reasons why you might need extra space in your home. Is your loft space being wasted by storing junk and empty boxes? Put your loft to better use by converting it into a habitable room that will add value to your home.
Having your loft converted is always an exciting (and equally tiring process). However, it is important that your conversion does not distract you from some very important considerations. Your loft conversion must meet building regulations at a minimum and may in some circumstances require planning permission. Don't forget to inform your current insurer that an extra room has been added to your house as this may affect your premium and the cover provided